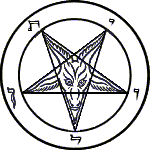 THE
SATANIC RITUAL
A. NOTES WHICH ARE TO BE OBSERVED
BEFORE BEGINNING RITUAL
Person performing ritual stands facing the altar and symbol of Baphomet throughout ritual, except when other positions are specifically indicated.
If possible, altar should be against west wall.
In rituals performed by one person the role of priest is not required. When more than one person is involved in the ceremony, one of them must act as priest. In a private ritual the sole performer follows the instructions for the priest.
Whenever the words "Shemhamforash!" and "Hail Satan!" are spoken by the person acting as priest, the other participants will repeat the words after him. The gong is struck following the other participants' response to "Hail Satan!"
Conversing (except within the context of the ceremony) and smoking are prohibited after the bell is rung at the beginning, until after it is again rung at the end of the ritual.
The Book of Belial contians the principles of Satanic magic and ritual. Before attempting the rituals in the Book of Leviathan, it is imperative that you read and understand the complete Book of Belial. Until you have done so, no degree of success can be expected from the thirteen steps which follow.
TABLE OF CONTENTS
Copyright ©1969 by Anton Szandor LaVey - All rights reserved, which includes the right to reproduce this material or portions thereof in any form whatsoever except as provided by the U.S. Copyright Law. For information address Avon Books, Inc.